Changzhou Changsong Metal Composite Material Co., Ltd
Add:
No. 65,Xinggang Road,Zhonglou Area,Changzhou City,Jiangsu Province, China
E-mail:
globalsales2013@gmail.com
Anti-Static Coated Steel Sheet
Description of Anti-Static Coated Sheet:
This anti-static coated sheet is mainly used in semiconductor factories, laboratories, operating rooms, clean rooms, computer rooms, sterile rooms of hospitals, pharmaceutical factories, food factories and electrical appliance factories. And it can also be utilized as interior walls for chemicals, combustible gas, organic solvents, and the like.
Metal oxides and conductive fillers have been mixed in the coating of this kind of anti-static coated sheet, so the surfaces of this kind of steel sheet are dust-proof and anti-static. The electrical resistance of these surfaces ranges from 106Ω-108Ω.
Moreover, this kind of anti-static coated sheet has good chemical resistance, abrasion resistance and stain resistance.
1. Semiconductor Factories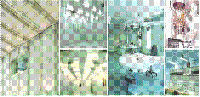 2. Laboratories, Operating rooms and Clean rooms
3. Anti-static Testing Machine
Company brief: Changzhou Changsong Metal Composite Material Co., Ltd is a professional manufacturer of anti-static coated sheet in China. We have built up cooperative relationships with many famous international companies, like Nippon of Japan, KCC of Korea, Valspar of U.S. and such. If you need anti-static coated sheet, please don't hesitate to contact us.
Related Products
PE Coated Steel SheetThis PE steel sheet is a kind of common construction materials widely used in the places where the air pollution is not very serious, and ...